Fax Appliance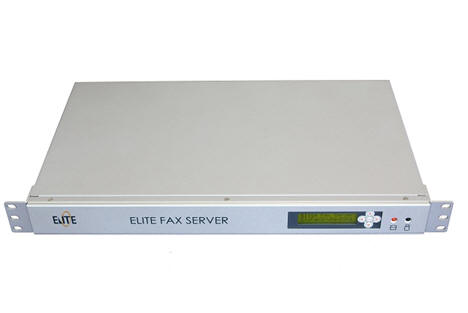 Features and Benefits
Backbone: The Elite Fax Appliance is the backbone of Elite WebFax Server(note#1) and Elite MISFax Server (note#2).

User-friendly: User-Friendly (Linus box) appliance like equipment. Card-less installation eliminating form-fit issues (such as vertical clearance) and compatibility issues with rack-mounted IPC. Not installed as card in IPC, less hazard for future hardware and Windows upgrades.

Scalable: Standard configurations of each Appliance are with 2 ports/4ports/ 8 ports. Multiple Appliances can be configured to suit your business needs, in most applications very little additional resources are required from your IPC/network server.

Secure: The Linus based Appliance is less prone to network virus infections. If required, can have exclusive LAN card dedicated for the Appliance connection, making it more secured and isolated from areas that are more prone to virus infections. Have the flexibility to deploy the Appliance in your intranet in a way to provide the latest network security against hackers and virus attacks.

High Data Protection and Reliability: Appliance is only responsible for the sending and receiving of faxes. Historical fax records are not stored in the Appliance, not making your data prone to single-point failure. Historical fax records are in fact stored in SQL database located in your IPC/network server that different levels of disk RAID architecture can be employed to suit your needs on data protection and reliability.

Data High Confidentiality: Our solution is not a cloud solution that your fax records (both inbound and outbound) are stored in your network server, under your security. If stored in the cloud in someone else facilities, your data are always more susceptible to someone else accesses.

Flexibility to suit your IT policy: Some larger corporations consider their data as utmost important and decide to implement a unified and consistent level of data protection scheme on their databases. They have (sometimes clustering of) servers centralized and setup exclusively for storing databases; while other functions such as network managements and applications programs are setup in none-DB type servers. The Elite Appliance together with Elite WebFax program supports this flexibility that if required the Appliance management program and the SQL database can be setup in different network servers.

Cost effective: The scalable Appliance is a very cost effective solution to handle high volume of fax sending and receiving: a routine of sending 200 faxes a day or as high as 5000 pages in 60 minutes can be achieved; all in one scalable solution.

Easy installation: The Appliance is a card-less solution that its installation doesn't require you to have the IT engineers to (a) shutdown the networking server, (b) dis-assemble the box so as to mount the card, (c) install the driver and its subsequent setup and testing. Say "NO" to the above tedious steps and not to mention the potential risk of encountering unanticipated problems (both solvable and unsolvable) in between.

Low Cost of Ownership: For cost conscious implementations, can utilize the already existed network server resources with very little additional investment other than an Ethernet connection and telephone lines.

Low Maintenance Effort: The routine maintenance effort of the trouble-free Appliance is "REAL" Low; only clearing off the log once every quarter, or every month depending on the level of utilization. Potential savings on maintenance effort is huge when upgrades on the hardware platform or Windows of the network server occur; no rationing of resources and driver issues would ever occur.

High C/P Value: For customers who need to process large amount of fax and at the same time a little conscious on the budget, this Appliance is the only feasible alternative.
Hardware Specifications: High performance 1U rack mount Fax Server system

System Processor
Intel ATOM Processor
RAM
2 GB
Flash Memory
32 GB
LAN
10/100/1000 Mbps x 1
Fax
4/8 Ports
Line Interface
POTS: RJ11C connector x 4 (x8)
Panel Display
16 Characters × 2 lines
Panel Key
5 Keys
Power
Input 100-240V/AC
Operating Temp.
0°C~ 60°C
Storage Temp.
-20°C~ 80°C

Relative Humidity

0%~ 95% (non-condensing
Dimension (L*W*H)
250mm x 483mm*45mm
Fax Specifications
Compatibility
Fax Capabilities

ITU-T V.17 (TCM)
ITU-T V.29 (QAM)
ITU-T V.27 (DPSK)
ITU-T V.21 Ch 2 (FSK)

Telephony Services

Ring Detection
On/ Off hook control
Caller ID Detection (FSK/DTMF)

Speed

Up to 14,400 bps with auto fallback

Fax transport mode
Resolution

Normal: 200x100
Fine: 200x200

Image format compression
Error Correction Mode (ECM)
Fax Storage

Off-Line mode: More than 2,000 pages
Note#1: WebFax Server is as some may call it the eFax that you can send/receive faxes anytime and anywhere whenever end-users have access to the internet. And it is fully integrated with your intranet email system.
Note#2: MISFax Server is Elite's standard software package that enables your MIS/ERP system to generate pure text batch-file so that the MISFax program can pick-up and convert them into tiff format and have them queued for subsequent sendings. This fully automated process is especially useful for handling large amount of faxes during peak hours; such as sending out 5,000 pages of faxes in 60 minutes.