ELITE--MisFax Server
When a company computerize all it data through management information system (MIS), they always generate many kinds of statements and reports that need to be sent out by printing out the documents and then using express mail or faxing. When all said and done, the things that are done besides sending out documents are wasted time, man power on operating the equipments, and money on ink and paper. By combining ELITE MisFax Server with you MIS system, you can send out MIS generated reports automatically, hence solving your problem on time, efforts, and money.


SYSTEM CONFIGURATION :




CHARACTERISTICS :
All MIS generated statements and reports can directly connect from the computer to the fax machine and not waste any time, money, and effort on postage, delivery, and man power. By connect directly to the fax machine you will create high quality report without losing any important transfers therefore boot you business's efficiency.
By combining the existing MIS software, users need to only learn how to operate the provided user friendly manager control and never need to walk to the fax machine to send MIS reports. Document text files can have printing setting in its text and MisFax server will automatically adjust the document to match when sending. MisFax Server is also recognize generated text files from Unix operating system.
All transfers will be written into a fax log for easy management. Depends on the size of the business, MisFax server can manager a total for 32 phone lines to send out fax. With the provided manager program, MIS personnel an spend less time online monitoring transfers. MisFax Server have automated resend functions that have repeat limit settings and transfer schedule setting so all MIS report can always get to where they are suppose to go at the lowest phone expanse. And with other functions such as priority setting, Logo/Signature additions, size adjustment, and many others, Users can create clears MIS statement/report on a B4 format page without missing out on any important details.
HOW DOES MisFax SERVER SOFTWARE SEND FAX :
As long as there is a fax number on the reports or statements, MisFax Server will examine the documents and automatically sends to the destined fax machine. At the same time, the management system provided by the Fax Server will help to monitor and keep in control of every transfer.

One useful built in function of MisFax Server is the TEMPLATE SENT. By scan in a empty statement or report and save it as a template file, MisFax Server can utilize the template file and sent out fax in that template format.

Also, the SIGNATURE function is also comes in handy on reports or statement. And no matter what operating system your MIS is installed on, MisFax Server will always send out flawless reports.

There are two way to generate fax control files that will operate on the MisFax Server:
(1) MIS system auto generation
MIS personnel will need to modify their MIS system to contain a FAX function. When the user click on the FAX button, MIS system will automatically generate a control files consisting of a control head section specific whom to send to.
(2) Using MIS CONVERT to generate control file
Even if MIS system doesn't have the ability to create faxing control files, MisFax server have the built in capability in MIS CONVERT. Given that the user will have to provide with some essitials such as the fax numbers, after MIS conversion, MisFax Server can proceed with sending out the reports and statements.


THE FAX MANAGER :

Here is what the Fax Manager looks like :
Buttons : 1. EDIT 2. RESEND 3. STOP FAX 4. DELETE 5. FILTER 6. UPDATE 7. PREVIEW

8. KEEPING 9. SAVE AS
Four modes for Faxing : 1.WAITING 2. SENDING 3. COMPLETE 4. FAIL

<![if !vml]>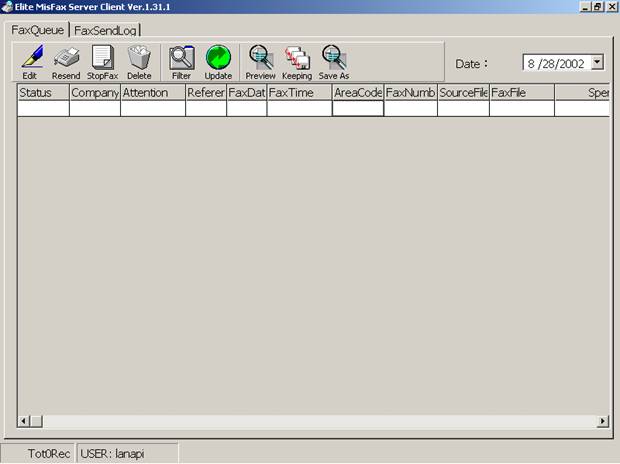 <![endif]>
1. EDIT : Fix fax number if it is wrong
2. RESEND : If fax fail, this will resend faxing immediately
3. STOP FAX: If there is an error in the MIS report
4. DELETE : Delete history recorded data is there is too many
5. FILTER : Search for a record in the transfer log
6. UPDATE : Keep up to date with the transfer progress
7. PREVIEW : Preview the fax documents
8. KEEPING : Set up the length of the history log and the server will clean-up the older record.
9. SAVE AS: Save transfer record into txt files for later purposes